Training Grounds, Facility and Information
We are located on 5.11 acres with a nice 1 acre pond, a pattern field, and upland areas. Additionally, we have access to a few hundred acres of private land in the area, we are members at the Wolf River Game Farm dog training area and as members of the Muddy Waters Retriever Club we also train at the Mead State Dog Training Area. Our training grounds include lots of technical water and "ducky" water in addition to woods, hay fields and CRP fields. We are a licensed kennel in the state of Wisconsin and our facility includes heated and air conditioned indoor runs to ensure year round comfort for your hunting partner. Whether you buy your dog from us or just send it here for training, it will be treated like it is one of ours. We offer training from beginning levels through advanced upland and retriever work and can train your dog to compete in hunt tests at all levels. For more information on training availability, pricing and our training philosophy please email or call us. Training references available on request.

*Due to the expansion of our family and our need to focus on our own dogs, we are only taking a very limited number of client dogs during 2018. Thank you!
Meet the Grand Masters!
Over the years we have had some super talented dogs! Here are all our Grand Masters to date.


​Training References
Scout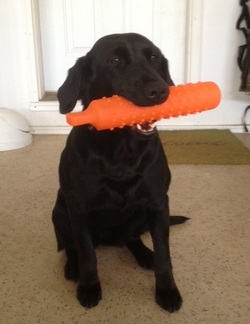 So you have decided to go exotic and buy a pointing lab even though all your pointer friends smirk at the thought. Rest easy though, Labs v. Pointers is Mensa v. Mush in the dog IQ department and with a trainer that knows how to handle these dogs, you will be just fine.
That's where Justin and Bre come in. Strictly pointing lab experience, steady discipline, family atmosphere, well mannered Lab buddies-they have it all.

Justin helped me pick my black female from a breeding he knew specifically to get me a smaller dog that could literally run all day on grouse. Justin handled puppy training first (Scout never ran off, chewed, had in house accidents or had any barking problem, period). At six months, Justin picked up her training again and at nine months she was running the grouse woods like she was two years old. Blind retrieves, finding birds, pointing woodcock rock solid and generally making much older dogs look, well, amateur.

This was and is Justin's work. Scout is the sweetest dog you could want and will run any dog or hunter into the ground and she is just getting started. She is now with Justin for force fetch and after that will be whoa and after that, well, after that I will keep taking Scout to Justin as long as he will have her.

He is good. Period. Do yourself a favor and pray that Justin will agree to train your dog.

You will not ever regret having done so.

Tim Nettesheim


---
MPR, HR Northstar's Hoosier Daddy? (Hoosier)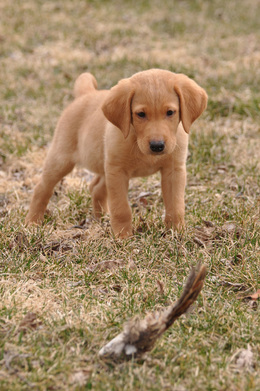 Video of Hoosier doing some puppy upland bird work.

http://www.youtube.com/watch?v=jL43_EEmR8g
Hoosier is a half sibling to our Mays and Nellie was fun while we had him (age 8-16 weeks). Troy has done more work since, getting Hoosier his CPR title in the Fall of 2011 at only 7 months of age! We look forward to watching this youngster develop and turn into a superstar! Since then Hoosier has earned both his Master Pointing Retriever and Hunting Retriever titles. Here what Troy had to say about our training program -
Justin & Bre
"You guys do an incredible job with these young dogs! I knew it the first time I had Mays in for a bit of training. She was so well adjusted that she had been exposed to anything you could imagine. And so when it came about this past year when I had some young dogs that I wanted to get that same kind of environmental enrichment I asked Justin if they could train them and he stated they would do that for me. The results for both of the dogs that they did for me were awesome. I would ask them to do that for me again in a heartbeat ! Thanks guys a keep up the great work ! "
- Troy Benson
---
GMPR, HR Northstar's Lonesome Dove (Deets)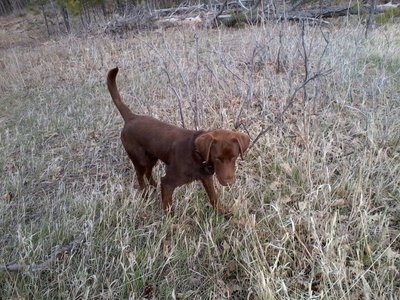 Deets is a great example of a Cooperstown product. He started off with us going through our puppy program, then returned for force fetch, whoa breaking advanced retriever training, and earned his Certified and Advanced Pointing Retriever Titles with the APLA as well as his Hunting Retriever Title (HRC) being handled by Cooperstown Kennels. Deets resides in the Dakotas with his owner Dustin Toy, enjoying ample duck and pheasant hunting opportunities.
Videos of Deets showing off his beautiful point.

Deets locked up with style and staunchness on a chukar
http://youtu.be/wEArJ7sxJZE
Young Deets working on a little whoa training at CK.
http://www.youtube.com/watch?v=RqpE52iOfcA
---
CK's Turkey Creek's Homerun Hound (Tater)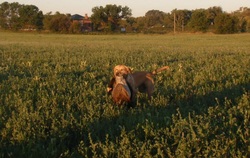 Tater was a young dog we started and sold after he went through our puppy training program. When he left us he was absolutely bird crazy and boy can he POINT! Here what Eli had to say -

Justin and Bre

"Getting Tater has been one of the best decisions of my life. Not only does he have outstanding prey drive and intelligence, but he also has a great personality. He truly is a versatile hunting machine that doubles as a wonderful companion. I attribute all of Tater's best qualities to his early training with Justin and Bre at CK. He was crate trained, socialized with the rest of the CK pack, and exposed to birds early and often. The result is a bird-crazy pointing lab that is comfortable in any situation. At 7 months, Tater has already retrieved doves, ducks, grouse and pheasants and has been consistently pointing pheasants for over a month now. The biggest challenge I've had so far is getting him to look away from the birds when taking pictures. I am very excited to hunt with Tater for many years to come."

- Eli Felts


---
GMPR, HR Cyclone Hardball CK PR (Cy)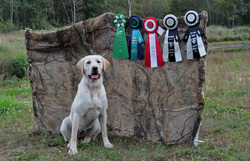 Cy is a young dog out of our Mays x Kenai breeding. Cy came back to us for training when she was about 4.5 months old and before she was even 10 months old, Cy had earned her Certified Pointing Retriever title with the APLA and her Started Hunting Retriever title with the HRC. She is an energetic, enthusiastic, pup who has a great point, high drive and is a quick learner and excellent marker. Cy has a beautiful build and nice blocky head and weighs in around 60 pounds. Here is what her owners had to say.

"Thank you Cooperstown Kennels! Your professionalism, knowledge and PATIENCE made
her a successful retriever. Not to mention a kickin' bloodline! Thank you for all your hard work with Cy, we love her and she is doing awesome. We can't wait to hunt her this fall." - Anne Marquardt
---
Hunt Test Passes and Titles by Cooperstown Kennels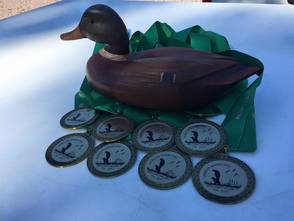 Mays - CPR, HR, HRCH (115 HRC points) - 10/13 overall
Cy - CPR, APR, MPR, GMPR, SHR, HR - 12/13 overall
Nellie - CPR, MPR, GMPR, SHR, HR (2 finished passes)- 13/18 overall
Teddy - SHR, MPR, GMPR (6 finished HRC passes) - 12/17 overall
Willie - CPR, SHR - 5/5 overall
Beckley - APR, CPR, SHR - 5/6 overall
Bear - APR, 2 Seasoned HRC passes - 3/3 overall
Brock - CPR, APR, SHR - 6/6 overall
Deets - CPR, APR, HR - 6/7 overall
Allie - HR (final pass) - 1/1 overall
Flash - 2 started passes - 2/2 overall
Ruger - SHR (final 2 passes) - 2/2 overall
​Lou - APR, CPR, 2 started passes - 4/4 overall
Fenway - CPR - 1/1
Dierks - CPR - 1/1
Rosie - CPR - 1/1
---