Fall 2017 Breeding Planned
​GMPR, HR Nellie x GMPR, HRCH Teddy​
These should be some really talented, good looking pups with a lot of talent. Excellent hunters, guide dogs and really good competition dogs that will be capable of turning it off in the house. This litter brings together the three types of lines I like to mix; American field trial lines, British lines and strong Pointing Lab lines. We believe combining these types of lines brings great point, high trainability, and excellent drive while maintaining good off-switches and a slightly calmer demeanor.
About the Stud - Teddy is just an amazing dog. Period. He is a good looking, talented dog who has that incredible "on-off"switch everyone desires. He's so calm when he was a year old and our daughter was 2 (see picture above) she could walk him at heel. Yet he will scale up a 15 foot high river bank or smash through an hazel thicket to retrieve a bird. He is by far the best marking dog I have ever trained and one of the best I have ever seen. His point is incredible; staunch, stylish and all natural. You can see more information about Teddy on "Our Dogs" page. Teddy is really doing well in the hunt test game earning his CPR, MPR, GMPR, SHR and HR titles already and he should have his HRCH very soon. All that before his 3rd birthday. Teddy ran in the spring 2017 HRC International Grand and did a good job. Teddy will be running the Fall 2017 HRC Grand and will begin work towards his MH title this summer. We will work on completing his 4xGMPR in the future as time permits. We love this guy and can't wait to get one of his pups!
​Video of Teddy in the upland field when he was 1 year old:
https://www.youtube.com/watch?v=w3pBpZeN46U&feature=youtu.be
About the Dam - Nellie is a sweet little yellow female that everyone she who know her just loves (see more information about Nellie on "Our Dogs" page). Nellie is a pocket rocket at 48-50 lbs with a ton of drive. She is fast and really runs hard on marks and blinds. She is super fun to train, loves to work, is very smart and always tries to please. She is a top flight retriever and is currently running finished level retriever setups. We plan on running Nellie in finished HRC to get her HRCH title during summer 2017. Despite being a "Fire-breather" she is very controllable and has a nice on-off switch. She is an easy keeper in the house and kennel and is super friendly. She is very biddable and despite being high drive does not require much pressure at all. Nellie is a smooth operator in the upland field and is an excellent bird finder. Nellie has hunted nearly everything that flies in North Dakota, Montana, Missouri, Nebraska, Iowa, Minnesota and Wisconsin. She is equally adept at hunting in the duck marsh, in a field for Canada Geese or in the upland field for pheasants. Pups from Nellie's first two litters are doing awesome and we are receiving really good reports from their owners.
Pups will all be yellow. All pups will be EIC, CNM, RD/OSD and PRA clear by parentage. Nellie is OFA "Good" and Teddy is OFA "Excellent" for hips and both are OFA "Normal" for Elbows and CERF clear for eyes.
All pups will be $1500. $400 deposit holds your pick.
We are still taking 3 male deposits and a waiting list on females.
References on Teddy, Nellie and Nellie puppies are available upon request.
Started Dogs
We do not currently have any started dogs for sale. Please check back in the future.


Puppy Buyer References

Tucker (Nellie x Flame; whelped Feb. 2016)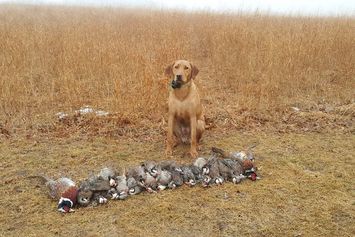 Tucker is a pup from our Nellie x Flame litter. When we received the email below from his owner Todd, he was just shy of 1 year old and had already retrieved 250 birds! Good looking, and talented. Keep up the great work Todd!

Good afternoon Justin,

I have attached a few pictures from our hunt today. Tucker is a bird machine. I am absolutely thrilled with how a great bird dog and family companion he is. I honestly could not have asked for a better bird dog. Tucker has around 250 shot over him so far. I took him out today just Tucker and myself to work on some training.. I put out 20 chucker and he found 19, plus 2 roosters, and 3 more hens that I could not shoot. Thanks again for a great dog. - Todd
---
APR, HR Burlingames Ursus of Cooperstown (Bear) (Mays x Kenai; whelped Nov. 26 2011)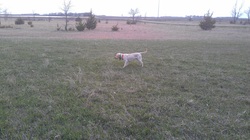 Videos of Bear working the upland at 15 weeks.

http://www.youtube.com/watch?v=Kw-vKLJ4Mi8
http://www.youtube.com/watch?v=SuD3jmIfI2M&list=UUN4G4BzvL0ZL5gZOnzzpn5Q&index=1&feature=plcp
This was Bear at 15 weeks. He is owned by Todd and Debbie Bex from Illinois. Bear was just over 3 months old in this shot (2/26/12). Bear is a bird pointing and retrieving machine. To quote Todd, "He is going to be a good one without a doubt, we love him. He absolutely rocks." That's what we like to hear. Watch for Bear and his littermates to hit the APLA, AKC and HRC circuit in the upcoming year! It should be fun to watch, but hold on because these dogs are going to be fast and talented.
---
GMPR, HR Cyclone Hardball CK PR (Cy) (Mays x Kenai; whelped Nov. 26 2011)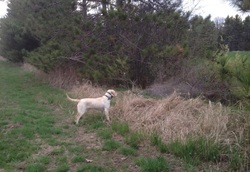 Cy is a fan favorite at home and reminds us a lot of her mother, Mays. She really gets out and moves in the upland and is a fantastic marking dog. To quote her owner Anne, "Thank you for all your hard work with Cy, we love her and she is doing awesome. We can't wait to hunt her this fall."
Cy earned the following hunt test titles: Certified, Advanced, Master and Grand Master Pointing Retriever and Started and Seasoned Hunting Retriever.
​Cy in action!
Just over 16 months old, showing off her stylish point during training.
http://www.youtube.com/watch?v=iCLRD48AQSc
Land retriever series from the Fox River Valley HRC test. She was 9 months old in these videos.
http://www.youtube.com/watch?v=ulARfkBhfFA&feature=plcp
http://www.youtube.com/watch?v=oRyJ0LrsCJE&feature=plcp
---
1.5xGMPR Ole (Mays x Kenai; whelped Nov. 26 2011)
This is Oly at 6.5 months. Oly is owned by Eric and Mali Morken. This is Oly showing off his ability to fly (AKA some drive!). Here's what Eric had to say about Ole. "Ole is doing great! He has begun force fetch and is handling it with ease. He has picked up everything I have thrown at him so quickly, My wife and I couldn't be happier with how things have gone with him. " Keep up the good work Eric.
Article featuring Ole.
http://www.echopress.com/content/watch-them-grow


Ole is now (Sept 17, 2016) a Master Pointing Retriever!
---
Some pups from the Mays x Kenai litter. All point, all are smack down retrievers and several were already winning hunt test ribbons by 7 and 9 months of age including two CPR, SHR dogs by 10 months of age.
Some pups from the Mays x Vaider litter #1. Good reports so far with lots of point and lots of retrieve drive.
GMPR Kuba (Mays x Vaider; whelped Feb. 13, 2014)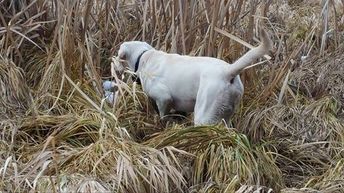 This is an email I received from Ron, Kuba's owner in November of 2014.

Kuba and I just got back from a charity pheasant competition in Harve, MT. A star was born with Kuba! The 1st day my team got 24 birds, won tail feather competition and then we held on to win the whole weekend. Kuba had several great points, retrieved well and worked harder than any dog in the event. Lots and lots to work on but what a start. Biggest compliment came from my friend that runs the event and is a Gordon Setter only guy who just put a deposit on a pup to replace his female. He said if he could get Kuba's twin he would cancel his order. Nobody can believe he's 9 months old. I'll send some photos or videos soon. Thanks for making this great pup. - Ron

---
Ruby (Mays x Vaider; whelped Feb. 13, 2014)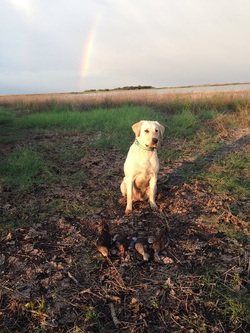 This is an email I got from Matt, Ruby's owner in September of 2015.


We just got back from a duck/dove hunt over the weekend. Ruby (18 months old) was one of 2 dogs with the other being a finished 3 year old black lab. Although Ruby was a full year younger it was very evident Ruby was the superior dog working over the weekend. I had several compliments about her prey drive, marking ability, and calmness. Several hunters commented she was one of the most impressive young dogs they have seen before. The owner of the other dog was so impressed he wanted to buy a pup from Ruby when she is bred. I was asked where I sent her off to get trained because she had great manners in the field, was steady to shot, wing and fall. I couldn't ask for a better pup.

Matt
---
SHR Ruger (Mays x Vaider; whelped Feb 13, 2014)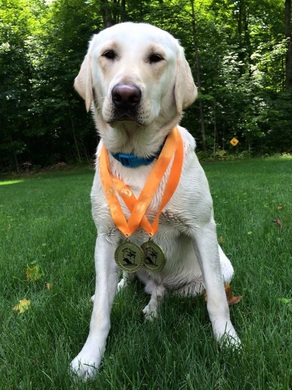 Health Guarantee
All our pups are guaranteed against congenital, hereditary defects including they are guaranteed to OFA at least fair for hips and CERF for their eyes for 28 months. Our pups are guaranteed not to be affected by EIC or CNM, meaning they will not have 2 copies of those alleles. Guarantee only applies to congenital, hereditary defects and not to those caused by injury, poor nutrition or improper care for the dog. Injury to the dog voids the guarantee. Our health guarantee comes with the following caveats: A Board of Certified Veterinary Ophthalmologist (CERF or OFA eye Clinic) must conduct eye exams. Hip and elbow X-rays must be completed by a licensed veterinarian and submitted to Orthopedic Foundation for Animals (OFA) for evaluation. A copy of any and all information pertaining to this matter must be sent to Cooperstown Kennels as proof of the existing problem. If one of the above problems do exist, Cooperstown Kennels will replace said dog if another similar breeding (equal or lesser puppy price) is planned at no charge given the dog is spayed or neutered and written proof of the sterilization from a veterinarian is submitted to Cooperstown Kennels. The owner will keep said dog. If the customer would like a replacement dog from a different breeding, the customer will be responsible for the difference in price from their current dog to the new breeding. All transportation fees are the responsibility of the owner of the dog. If the dog is bred before 24 months of age or prior to being CERF clear and receiving an OFA rating of Good or Excellent for their hips and normal for their elbows, the guarantee is void. All dogs need to have "Cooperstown" in their registered name or else the guarantee is void. The guarantee is non-transferable and only valid to the original owner.
---